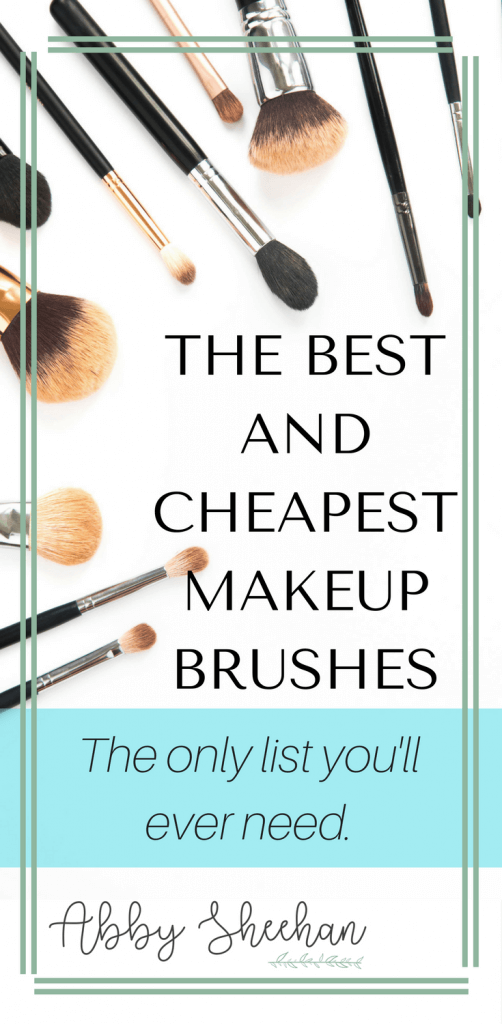 Bomb makeup brushes can change the game.
Trust me.
The makeup brushes you use are just as important as the actual products you are using. Think of a painter that has the most beautiful, high-quality paints, but has no brushes. This painter would have to use her fingers for the entire piece and definitely would not get the same effect as using different sizes and types of brushes.
High-quality makeup brushes that are used in specific ways, will seriously change the way your makeup applies, and how it looks on your face! Once you get the hang of using your makeup tools, applying will be a breeze, and you'll never go back to using your fingers (or those cheap foam "brushes" that come in compacts) again!
Alright, so now we know that brushes are muy importante. However, you can rack up a serious bill if you buy a lot of the typical high-end brands. The great thing is, you can find some amazing quality brushes for super cheap! The brands I am recommending in this post provide the best and cheapest makeup brushes and have never failed me!
These brushes I'm recommending are:
Super strong

Don't shed all over your face

So soft you will just find yourself rubbing them all over your face for fun

Do the what they say they will do
Cheap in price…not quality
I'm going to recommend three of my favorite brands for makeup brushes, followed by the brushes I love from each brand!
Eco Tools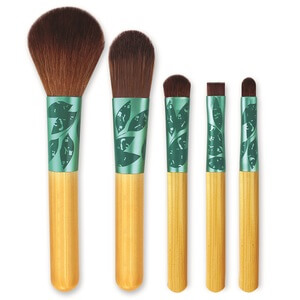 The first Eco Tools brush I picked up was at Target, and I didn't have the highest hopes for it. My broke college butt just wanted some dang good makeup brushes and I didn't know where to go. However, when I first used it on my face, I was blown away by how soft it was! My original brush was one I used for blush, and it blended perfectly.
After researching the brand a little bit more, I fell in love with their mission. The brand is cruelty-free, environmentally friendly, uses recycled materials and renewable bamboo, and uses packaging that is made from tree-free paper!
Woo hoo for helping the environment!
And the best part? These brushes won't break your bank. Perfect for someone who needs to begin their brush collection and is just getting started. Here are a few of my favorite from the brand and how I use them!
I believe this brush is supposed to be used for applying foundation, but I always use it for blush. The angle of the brush allows me to apply my blush easily, starting on the apples of my cheeks and easily swiping up my cheekbones towards the temples.
This brush picks up the perfect amount of product and allows me to blend easily, with a natural finish.
This is an excellent powder brush that allows you to apply your powder to your face so quickly! Since it is so large, you can just dab dab dab it all over your face in two seconds and boom your powder is done.
I have used this before for blush as well! Although it doesn't have the awesome angle, as the first brush does, I can still get a more blown out blush look when using this all over my cheeks.
Two brushes for six bucks? Yes, please!
Although I generally use my beauty blender now for applying concealer (check out this post on beauty blenders!), I have loved these two brushes as well. I have used both to carefully blend out concealer on small spots, blemishes, and areas of discoloration. Much more hygienic than using your fingers!
Just dab a small amount of concealer to the area and then blend in very light, circular motions using the brush.
Eco Tools also offers a variety of sets that look great! Let me know if you buy any of their packaged deals since I have never bought a full set. Seems like an awesome deal though, as you are saving money by buying this way!
They offer many other amazing brushes, so play around to find which ones are your favorites.
E.L.F. Cosmetics
My favorite thing about E.L.F. is that this brand is super easy to find. Almost every drugstore or supermarket will carry some E.L.F products! And talk about affordable cosmetics. I pretty much lived off E.L.F. makeup all through college.
And I'm not mad about it.
I legitimately use this for highlighting the tops of my cheekbones every single day. It's super easy to use, and applies the perfect amount of highlight!
The name on this one is pretty deceiving – it is the perfect eyeshadow brush for your crease and outer corner ("contouring" the eyes – I guess?). This brush packs on a lot of color and is extremely dense. This means you don't need to re-apply a lot of eyeshadow or use too much product! You will get a rich color pay-off easily when going for a deeper look.
A much more "fluffier" option that the contour brush. This one is perfect for blending out your eyeshadow and making sure there are no harsh lines. I also like to use this to apply lighter eyeshadow all over my lid, or for a more "blown out" look in my crease.
Morphe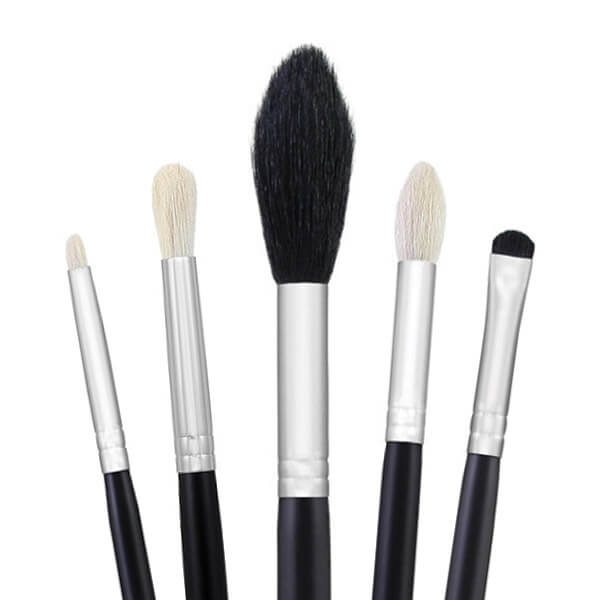 Alright y'all, if I'm going to be honest, I'm obsessed with Morphe.
This brand offers amazing products, for such an affordable price! They seriously have the best and cheapest makeup brushes. The majority of my makeup brushes are from Morphe. I have tried makeup brushes that are much more expensive than Morphe, but I honestly think these are so much better.
They never shed, are so soft, and are made in such a way that they expertly apply the product. They also have such a variety of brushes; you could find any you need!
Unfortunately, their only brick and mortar store is in California, but you can always order online (what I do). Go in with friends or buy a larger order to save on shipping.
Here are a few (or more than a few) of my faves! I seriously have a lot, so I only gave a brief description of each. If you would like, I can create a separate blog post just on Morphe brushes to go in a bit more detail of how I use each and some demonstrations! This one would just be too long if I let myself ramble 😉
Face Brushes:
If you want to have that all-over bronzy look, and not such a structured, contoured face, this brush is for you.
This bronzer brush is perfect for sweeping bronzer in the hollows of your cheeks, your jawline, and your temple for a blown-out bronzy look. (I will do another detailed blog post on bronzing versus contouring. Let me know if that's something you want soon!)
This is another brush I use for bronzer, but I use it to give myself a very structured, sharp, Kim K contoured look. This brush is much shorter, denser and more narrow, so it will allow you to draw a sharper line of bronzer.
Again, I apply in the hollows of my cheeks and my temple, and along my jawline. I still blend out in the end to avoid harsh lines!
My ultimate foundation brush!
I apply my foundation on the back of my hand, and then use the M439 to dab it all over my face and buff in, using circular motions. The large, dome shape leaves your foundation looking flawless!
I use this brush to apply certain powders to my under-eye area.
I use the Anastasia banana powder under my eyes, and this medium-sized tapered brush to apply the powder to this area. It fits perfectly under my eye and applies the powder delicately.
If I want a super-fierce contoured look, I will use this brush to apply my bronzer, and then blend it out.
I have also used it to sculpt out my contour after I have applied my bronzer with my M523 (mentioned above). I will grab some translucent powder (more about this is an upcoming blog post!) and stamp it underneath my bronzer, to make sure it is a nice, clean line. Then I will brush it away with my M438, and bam! You have a beautiful, structured cheek bone.
Eye Brushes:
I use so many different blending/crease brushes when applying my eyeshadows. I have not put a description under each one of these, but I put them in order of "fullness" or "fluffiness". (The first brush being the fluffiest, and the last one being the densest.)
When applying eyeshadow, I start with the fluffiest one and my lightest shade of eyeshadow. Then, I use the denser brushes for darker eyeshadows in my crease or outer corner.
So basically, start with the M441 (the first brush listed) for your lightest shadows in your crease. Then work your way to the E17 (the last one listed) for your darkest shadows, which are more compacted in your crease or outer corner.
I can do a demonstration in a later blog post of applying eyeshadow with each one of these, if that would be helpful.
Your eyeshadows will look beautiful when using these brushes and this method!
These last two brushes are for my bottom lash line.
I almost never apply eyeliner on my bottom lash line (only when going for a very dramatic smoky eye). I like to use shadows that complement the shadows I used on my lid and blend them out for a more smokey look.
I start with the M432 definer brush, and pack on darker shadow on my lower lash line, just like I would if it was eyeliner. Then, I use the M321 pencil brush to blend it out, so it's not a harsh line. Easy!
I have a lot to say about makeup brushes, people. 🙂 I've just listed some of the best and cheapest makeup brushes I can find! Please let me know if you would like any more detailed posts or demonstrations about any of these tools!
If you liked this post, I would recommend you read my post about Beauty Blenders! Although not technically a makeup brush, beauty sponges are a key tool I use every day when applying my makeup.
I promise these will take your makeup to the next level. The key is just to keep using them, and practicing until you figure out exactly which brushes work best for your face shape and makeup. Seriously, practice makes perfect, and you'll be a pro in no time.