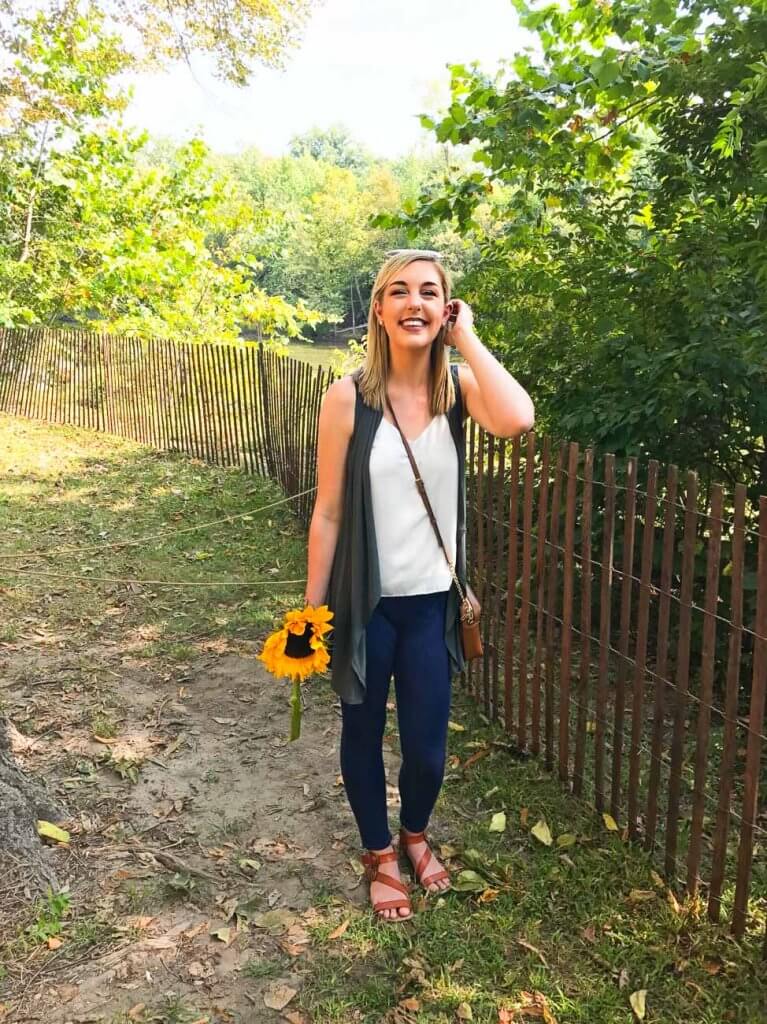 Top (Cardigan): Originally from Urban Hippie, but I could not find the piece anymore.
I found a similar option on Amazon (and it's prime eligible!)
Top (White Tank Top:) Forever 21
---
Hey friends! I wanted to share with you a quick post this morning – featuring an outfit I wore to a fall festival this past weekend in my hometown. (Fort Wayne peeps: can I get a hollllaaaaa for Johnny Appleseed???)
Seriously, I don't know about you but I look forward to this fall festival all year long. With it comes the amazing smells of fall, like campfires, sweet funnel cakes, and crisp fall air. This is also the time where the leaves are just beginning to change colors, so it's so gorgeous. Best of all, the amazing food such as caramel apples, chicken dumpling soup, funnel cakes, apple cider, oh my gosh yum. I seriously get so pumped for this weekend!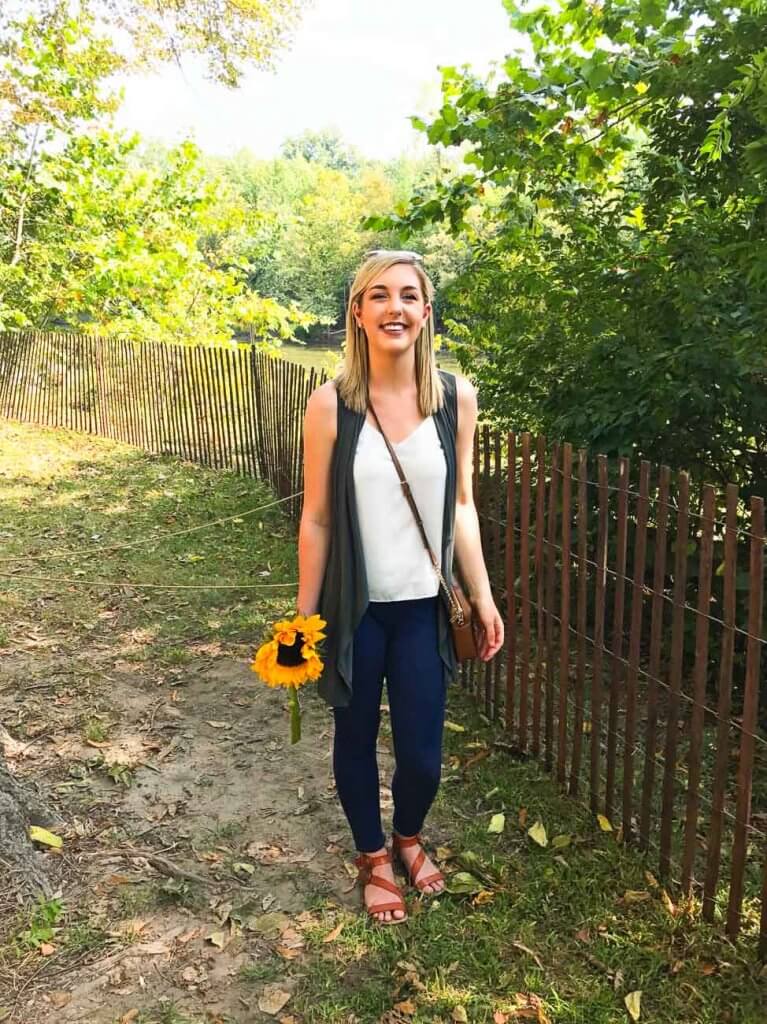 The only problem with this picturesque fall scene is that it ended up being around 75 – 80 degrees while we were walking around the autumn wonderland. Come on, mother nature, could you help us out a little more with, like, a breezy 65?
Apparently not.
Does anyone else have this problem around this time of year? I begin to crave all things fall – including fall outfits, but the weather is still a teensy bit too hot for that on most days. The worst part is the days where it is in the 50's in the morning, but the 80's by mid-afternoon. Layers are key!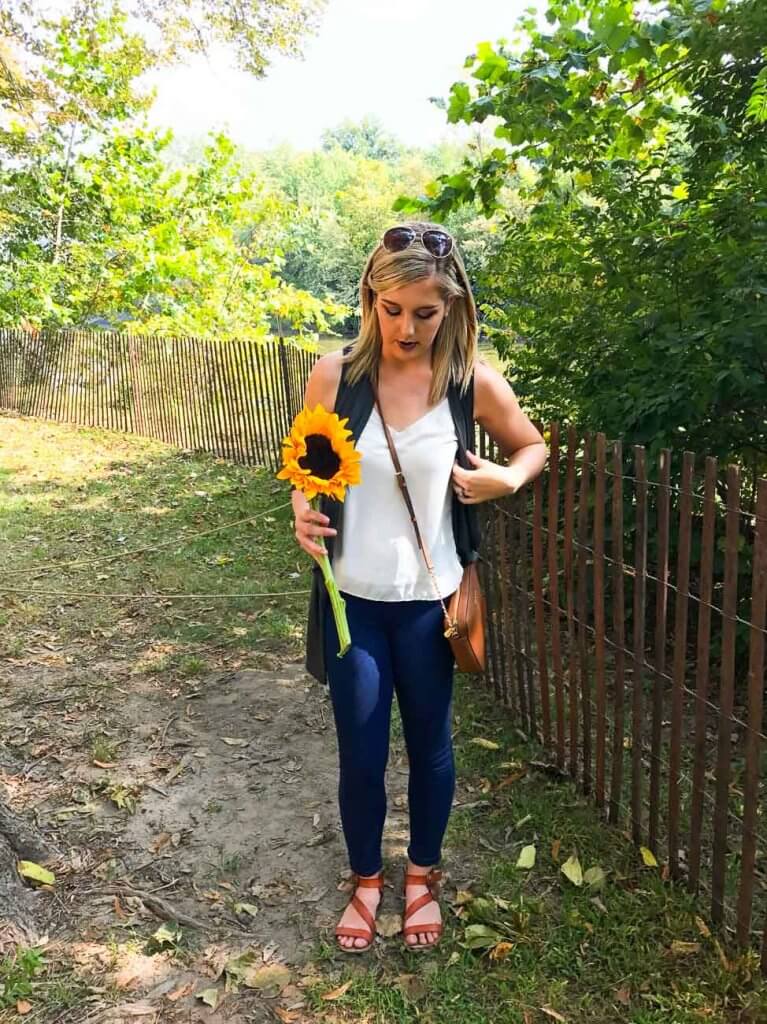 I feel like this outfit I put together was really pretty good for a day I want to channel some fall vibes, but I don't want to sweat my face off. The white tank top is a very lightweight blousy material – that was perfect for walking around on a hotter day!
My favorite piece is this sleeveless green cardigan that I scored from a local boutique here in Fort Wayne! I love the deep green color – it's the perfect autumn color if you ask me. Thankfully, it is lightweight enough that I didn't feel hot wearing it and my arms could still breathe on this hot day!
If you haven't check out Urban Hippie, and you live in the area…you need to! I love this store and I'm always stopping in to check out their new goodies. The store inside is so cute and I always find literal armfuls of clothes to try on. You should stop in next time you're downtown!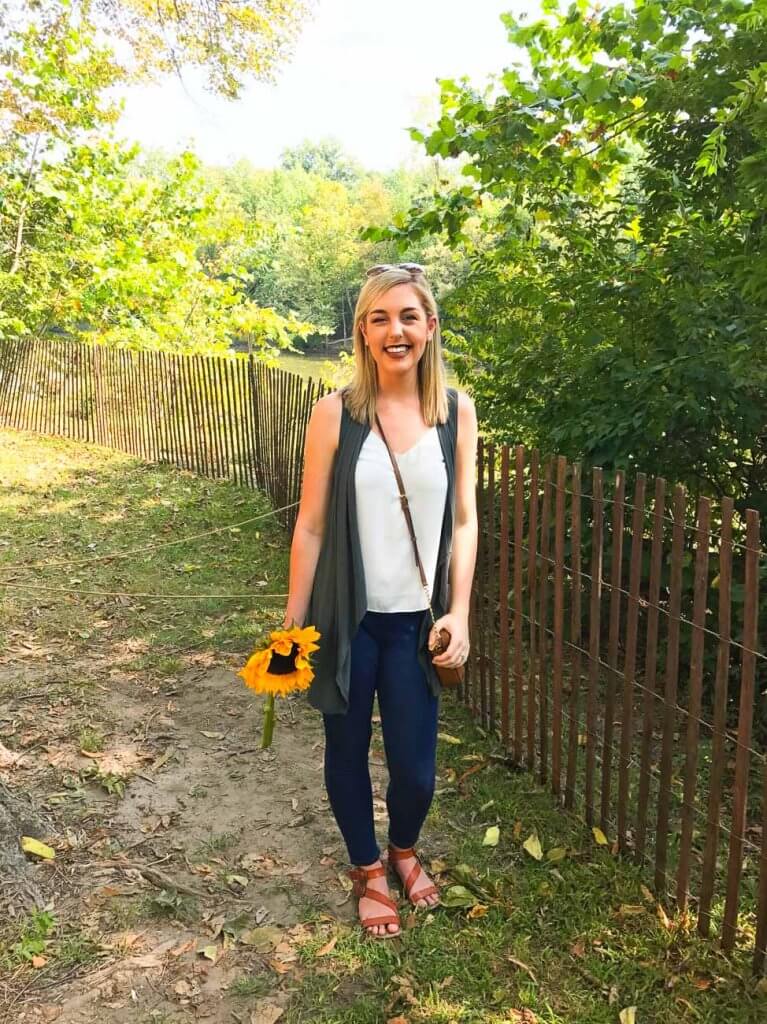 And of course, I had to pick up one of my fave flowers – sunflowers! It really completes the fall look, right?
I am thinking about doing more of these random outfit of the day posts, what do you guys think? I enjoy doing them because I always find so much inspiration from other blogger's outfits and love scrolling through OOTD's. The posts are shorter, but I think it's fun to see different outfits now and then!
Let me know if you would enjoy more of these types of posts!