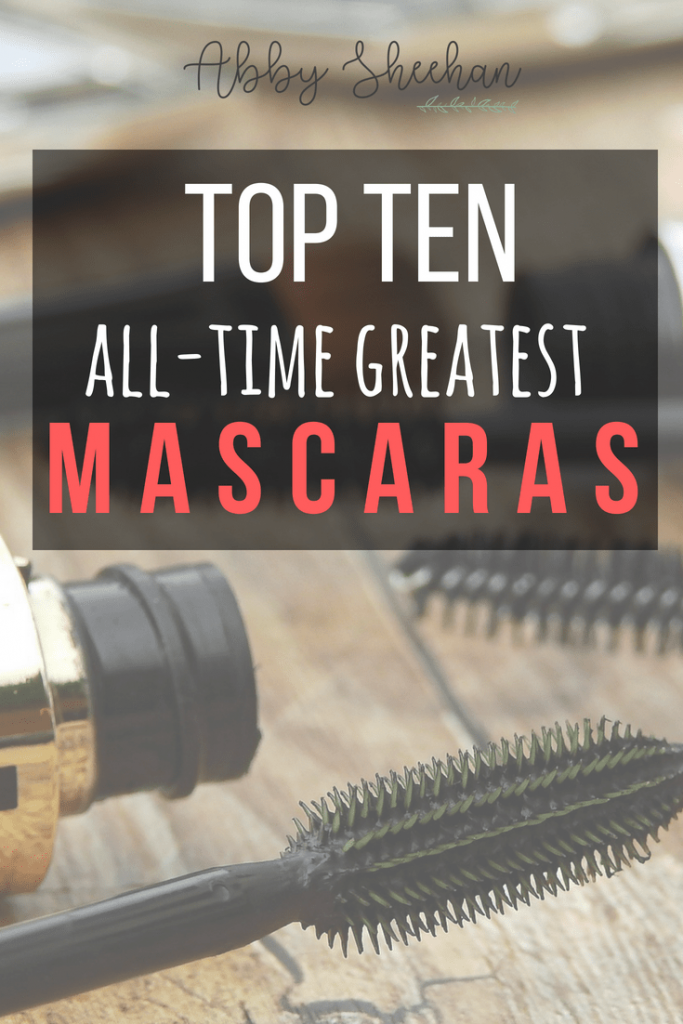 Tired of trying out hundreds of mascaras, just to be disappointed? Trust me, I have gone through so many mascaras in my life…and disliked many!
Search no further! I have rounded up the ULTIMATE list of best mascaras! I have included five mascaras from the drugstore and five mascaras that are high-end. There's something for everyone in here!
For each mascara, I have ranked it for volume and length, out of a total of five. That way, you can know exactly what to expect and what you're getting if you try out each mascara.
If you are on a budget, I would definitely just stick with the drugstore mascaras. No need to spend a ton of money on high-end mascaras when the drugstore offers many ones that are just as beautiful as their more expensive counterparts.
However, I still included my fave high-end ones if you're interested in those as well! I think they are totally worth the splurge.
Let's dive in!
Drugstore
Volume: 5/5
Length: 5/5
This one is my latest obsession. When Lash Paradise came out, it kind of exploded across the internet, so you've probably seen it around, even if you've never tried it.
This mascara is known for being a perfect dupe for the Too Faced Better Than Sex mascara (that I mention in the high-end section of this post.)
This guy is popular for a reason, I am completely obsessed with it! Even my waterproof version (I don't usually love waterproof mascara) is just as beautiful as the regular version.
In fact, you may have read me raving about this mascara in my Summer Beauty Favorites post from last year. Yes, it's still a favorite, year round!
Volume: 4/5
Length: 5/5
This Voluminous mascara (also from L'Oreal) seemed to be the cult favorite before Lash Paradise came out. However, I still think it's an incredible mascara that I reach for regularly! She still holds up to her more popular sister.
I always recommend getting the "Carbon Black" color instead of their regular black color, "Blackest Black". Carbon Black is just about as deep and black as you can get in a mascara, so you don't need to worry about it being too light or slightly "grey" looking (one of my pet peeves with black mascara!)
Volume: 3/5
Length: 4/5
This mascara is just such a classic, but still holds up to its name! Believe it or not, this was actually the first mascara I ever purchased (or, well, that my mom purchased me) when I first began wearing mascara!
I cannot believe this mascara is still around, and I think a lot of people may have forgotten about it and/or let it slip through their memories. Let's not forget, and bring it back, people!
This mascara still holds up to many of the popular mascaras today, and I don't think I will ever stop loving it.
Although not quite as dramatic as other formulas, it's perfect for light makeup and everyday looks, or for young girls just beginning to wear makeup!
Volume: 4/5
Length: 4/5
Yet another mascara that has been around for a long time! I remember people raving about this mascara when it first came out, years ago.
Again, I still think it lives up to its hype and performs amazingly well. Extra bonus: completely organic ingredients!
Physicians Formula is known for being one of the pricier brands compared to most drugstore brands, but it is still a great price for what you are getting! (And unfortunately, many other drugstore brands have risen up to closely matching their price levels, so they're not much higher than most anymore.)
Volume: 5/5
Length: 4/5
I'm not going to lie, I don't currently own this mascara, and I haven't used it in quite a while. However, when I was compiling this blog post, I suddenly remembered this mascara and how much I used to love it, so I simply can't not include it in this list! I may be making a Target run after I'm done writing this to pick up my old fave…
Maybelline mascaras are known for being extremely wet, and this one is no different. I know many people don't love wet formulas for their mascaras, so this may not be for everyone.
I, on the other hand, love Maybelline's formula and am obsessed with this mascara! I think I probably wore this every single day of my entire high school career, no joke.
The name explains what it does super well: volume, colossal, yes I agree. You may not have seen people talking about this one in a while, but try it out yourself anyway!
High End
Volume: 5/5
Length: 3/5
To be honest, this wasn't my favorite mascara at first. I found it to be pretty clumpy and hard to work with. However, I still gave it a shot and actually don't hate it now!
This definitely isn't a "natural" or "beginners" mascara. If you're not careful, this mascara can end up very clumpy. To avoid this, be sure to wipe off the wand on the edge of the bottle before applying, and don't apply too many layers. I find one layer is plenty for this mascara!
After one use, you will clearly see how this bad boy earns its 5/5 for volume. Easily the most volumizing mascara on this list!
Volume: 4/5
Length: 4/5
Normally, MAC isn't super well-loved for their mascaras, and I would have to agree with this. I have tried many MAC mascaras that aren't my favorite.
However, the False Lashes mascara is definitely my favorite MAC mascara I have ever tried!
If you're a little bit of a MAC snob (like we all can be) and want to feel fancy with your MAC mascara, give this one a try! It's not incredibly dramatic like some other mascaras on this list, but it is still extremely buildable and wearable, and looks super pretty after multiple layers!
Volume: 5/5
Length: 5/5
Here's the bad boy that is always compared to the L'Oreal Lash Paradise! Honestly, this one is so similar, it just seems like a more expensive alternative. But I still love it nonetheless!
Pretty much everything I said for the Lash Paradise can be applied to this mascara as well: cult favorite, super buildable, high-volume, super lengthening…you get the drill.
Even though it is comparable to the L'Oreal one, I still find myself reaching for it frequently, and missing it when it's out! Give it a try and let me know if you like it more or less than Lash Paradise, I am curious to find out!
Volume: 4/5
Length: 4/5
This mascara has had many mixed reviews, but I find it to be a personal favorite of mine! Tarte mascaras are definitely much drier in their formula (think: the opposite of a Maybelline formula), which may take some getting used to.
However, I still find that this mascara looks beautiful once it is built up and applied well! Not clumpy at all and pretty lengthening, I love the effect it gives.
Plus: it's got some adorable packaging that I love!
Volume: 5/5
Length: 5/5
Benefit Roller Lash is probably tied with Too Faced Better Than Sex on my favorite high-end mascaras! They're both so good, you really can't pick just one!
This mascara is another cult favorite for a reason. I know many mascaras in this list are cult favorites, but I find myself agreeing with the crowd…because the crowd is loving them for a reason!
This one is such a favorite, that you can find many Youtubers (like Jeffree Star) supporting this mascara and claiming it as their all-time favorite…even with special edition packaging.
Have y'all tried any of these, and do you agree with my favorites? What mascaras would you add to this list of all-time favorites? Let me know below!
And, don't forget to grab your FREE Ultimate Makeup Must-Have Guide for more mascara recommendations (and soooooo many other makeup must-haves!)
Liked this post? Pin it for later!