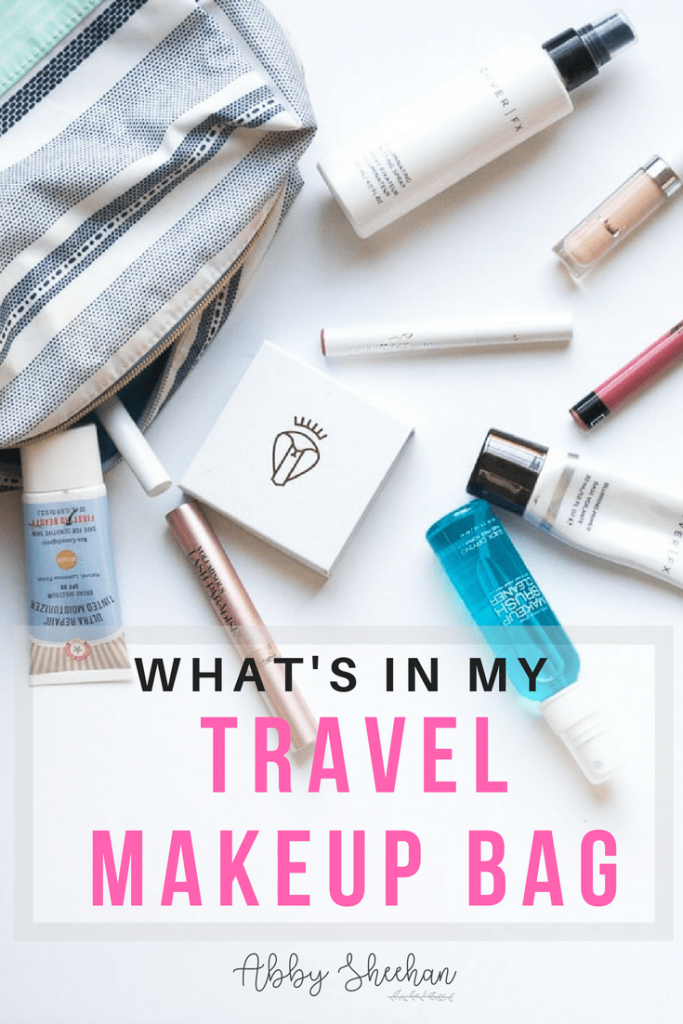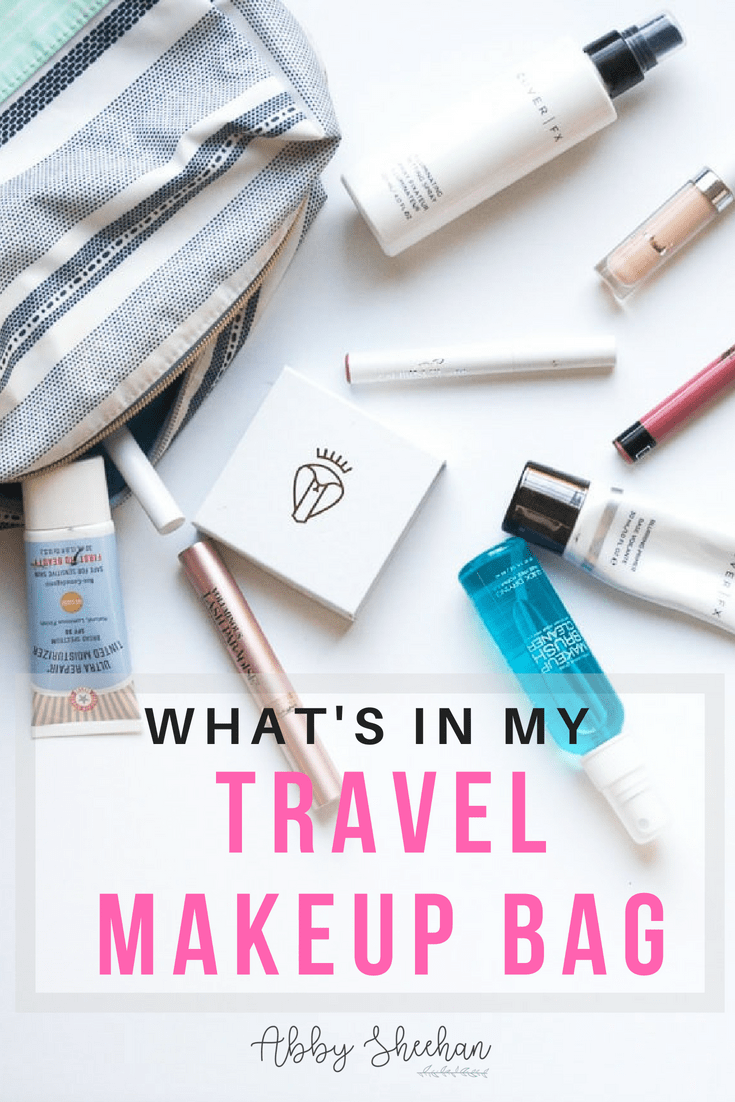 If you haven't read it already, be sure to check out what I'm packing for my beach vacation! In that post, I detailed all my outfits and wardrobe pieces I prioritized for my beach vacation.
In this post, I will be showing you exactly what makeup products I am bringing traveling with me!
I looooove reading other's posts about what is in their travel makeup bag. The reason for this is that you can get a good understanding of what products are people's favorites by taking a peek inside their travel bag!
Trust me, if I am willing to travel with it, then you know it's good. My travel makeup bag is full of my absolute favorite, ride-or-die, no-fail products. I'm not going to risk bringing a product I'm not in love with.
These are my definite staples and all-over favorite, well-performing products that I trust enough to travel with!
Face

Face Products (left to right):
Tips:
Bring two shades of foundation (one lighter, one darker) to be able to mix together and find your perfect shade! Especially if you are planning on being out in the sun, your color is probably going to change throughout the trip. Be sure you're prepared with the right color foundation! With two shades, you can mix to match yourself perfectly.
Same goes for concealer! Just like my two foundations, I am bringing my two favorite concealers of all time to mix together to get my perfect shade when needed, depending if I am lighter or darker.
Be sure to bring a lighter-coverage tinted moisturizer for going to the beach/pool, or if you just want something that's not too heavy. I will definitely be wearing my tinted moisturizer to the beach, because of the lightweight coverage and SPF!
You can read more about how much I love the RCMA Powder in this post, but you may know I also hate the packaging! I don't think it's practical or useful. To combat that, I transfer my powder into a small compact I bought on Amazon…much more travel-friendly!
And don't worry, I didn't forget highlight or blush…keep reading to see the palettes I bring for those!
Eyes

Eye Products (left to right):
Tips:
I love my Battington lashes because of the convenient box they come in that allows me to store them easily, without worrying about them getting crushed. It's the perfect case for travel! Even if you are bringing different lashes, be thinking about how you will store them and keep them in good condition.
Bringing one liquid liner and one dual-ended pencil liner gives me a plethora of options on how I want to do my eyeliner. I can do a more fun, purple look, a smokey-black look, or a precise cat-eye! Plenty of options without taking up a ton of space.
A tinted brow gel is another great option for a quick beach look, without taking a lot of time or applying heavy product.
Again, I didn't forget eyeshadow! Coming in the "palettes" section!
Lips

Lip Products (left to right):
Tips:
This may still seem like waaaaayyy too many lips for some people, but I like the variety it gives me! I am bringing two lipsticks, three liquid lips, and two lip glosses.
With the combinations I can make with layering these products (especially with glosses), I can go from a very pale nude to a very dark or bright pink…depending on what I want for the day!
Palettes

Palettes (left to right):
Tips:
Choose palettes that aren't large or bulky but give you a lot of variety to choose from.
I always travel with my Jaclyn Hill palette, as I feel it offers me any eyeshadow I could ever need for any eye look I am wanting to create! There are plenty of neutrals and pops of colors to choose from, and it is extremely lightweight.
I never skimp on highlighter at the beach…I want to be glowing all over!
My travel palettes aren't technically in my "makeup bag", as I don't put them in the bag itself. I actually wrap my palettes up in some of my softer clothes, or in between soft layers, to make sure they stay protected throughout traveling!
Tools

Tools:
Tips:
This Morphe Brush case is amazing for traveling! I never need to worry about my brushes getting squished or mis-shapen, and everything I need easily fits in.
I didn't detail out every brush I am bringing, but you can read about my favorite brushes here to get a good idea of what's in that super cool brush case of mine.
I NEVER travel without tweezers! This is definitely an item you should NOT forget!
A travel-size brush cleaner is great for a quick spritz now and then to ensure your brushes are staying clean, without having to do an entire deep-clean.
So now that you know what's in my travel makeup bag, you also kind of know what my absolute ride-or-die makeup products are! What do you never travel without? Let me know in the comments below!
And don't forget to check out some of these posts I think you might also be interested in:
Finally, snag your FREE "Ultimate Makeup Must-Have Guide" here…you won't regret having this guy in your arsenal!
Liked this post? Pin it for later!